Here are some of the best Makeup tips and tricks from around the web, which I have personally selected from tons and tons of makeup blogs and websites. I hope you like them. Also see our makeup gallery. Previously we also wrote about cutting your own hair, without any help.
1. Cover your eyelid with white liner to make any eyeshadow shade pop.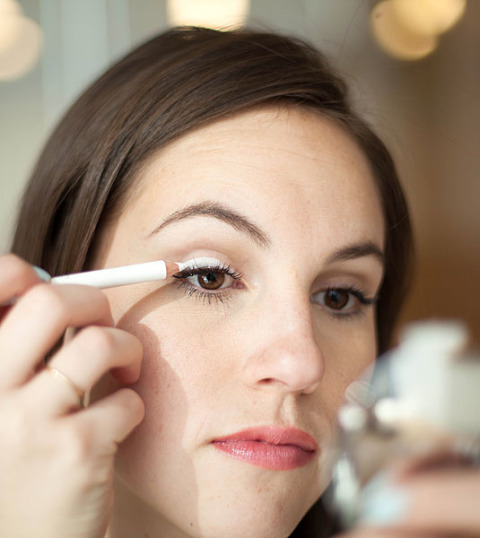 To make a sheer or less pigmented eyeshadow appear more colorful on your eyelid, take a white eyeliner pencil, like Make Up For Ever Kohl Eye Pencil in White, and run it over your entire eyelid. The opaque consistency of the liner will intensify any eyeshadow shade and make it pop instantly against your skin. (Tip via makeup artist Lauren Cosenza founder of Divalicious Blog.)
2. Repurposed Plastic Spoon
Use a plastic spoon to easily apply mascara on your bottom lashes without getting any on the skin under your eyes. It also helps you to accomplish a much thicker coat.
3. Do what the professionals do: Use the proper brushes for application.
Here are the eight basic brushes you need:
1. Foundation brush (Available on Amazon $9.67)
2. Concealer brush  (Available on Amazon $8.00)
3. Fluffy powder brush (Available on Amazon $11.17)
4. Blush brush (Available on Amazon $14.95)
5. Small blending brush (Available on Amazon $10.00)
6. Flat eyeshadow brush (Available on Amazon $7.95)
7. Precision angle brush (Available on Amazon $10.00)
8. Lip brush (Available on Amazon $6.86)
Once you have your tools, you need to know how to hold them. Where you hold a brush on the handle affects your control. The closer your fingers are to the barrel (the silver section beneath the brush head), the more pressure you put on the brush head and vice versa." In general, if you want to apply color evenly, place your fingers on the center of the brush handle. Another tip: You can easily turn a fluffy brush into a flat, angled brush by wrapping your hand around the bristles and flattening them.
4. Put foundation all over your face and wipe off your cheeks
Tired of your foundation looking cakey and unnatural? To get fresh-faced, flawless skin, CoverGirl Global Creative Design Director Pat McGrathhas a nifty trick: Put foundation all over your face, then use a tissue to wipe it off of your cheeks. This makes it easier to layer your blush on without it looking fake. "It brings life back to your cheeks and realness back to your skin," she says.
5. Never put Concealer on eyelids
Never put concealer or foundation on your eyelids as a base, it will cause your eye makeup to crease.
6. Trust in the power of taupe eyeshadow.
Sweep it over your entire eyelid to give your eyes a wide-awake look (the color zaps redness) or use it to create the perfect base for eyeliner—it looks amazing next to a line of brown, black or navy. Add a touch of shimmery beige at the inner corners of your eyes and you've got a look that goes from day to night in a flash.
7. HOW TO COVER ACNE WITH FOUNDATION
Perfect for those tasked with concealing cystic pimples and unsightly acne-related blemishes on a daily basis, this Infographics is full of useful techniques for creating a flawless finish on a difficult canvas.
8. Blush For Your Face Type
In order to apply blush where it will be most flattering on you, first determine your face shape. Blush not only adds color, but also contours and defines your cheek bones. The way you apply your blush can accentuate your best features and also soften those that are perhaps too prominent.
9. Turn a pencil eyeliner into a gel formula with the help of a match or lighter.
Hold your black, green, burgundy, etc., kohl eye pencil (which typically creates a thin, harder-to-apply line), under the flame for one second, let it cool for 15 seconds, and then watch the consistency change right before your eyes. Finally, glide on your newly made gel liner for an instantly smudgier formula.
10. Mix primer with your foundation
You can wear cream foundation as is for opaque, full coverage, or you can break it down to be more translucent by mixing it with some primer. This is a surefire way to retain the foundation's coverage without looking caked on. Plus, you get to reap the long-lasting durability that cream foundation has over liquids and powders. This also helps the makeup blend seamlessly with the first layer of primer on your skin.
11. Long Lashes are way easy for makeup
When you've got naturally long, lush lashes, you don't need a ton of other makeup to stand out. To get an enviable fringe, Chanel celebrity makeup artist Kara Yoshimoto Bua says to first be sure your mascara is no more than a month old—fresh mascara glides on easier and won't flake. "Wiggle mascara in at the base of the lash and sweep outward and upward," says Bua. "The trick to sexy natural lashes is to get the thickness into the base of the lashes and taper them naturally to the ends, as opposed to chunky, thick ends."
12. Use your fingers to apply your foundation..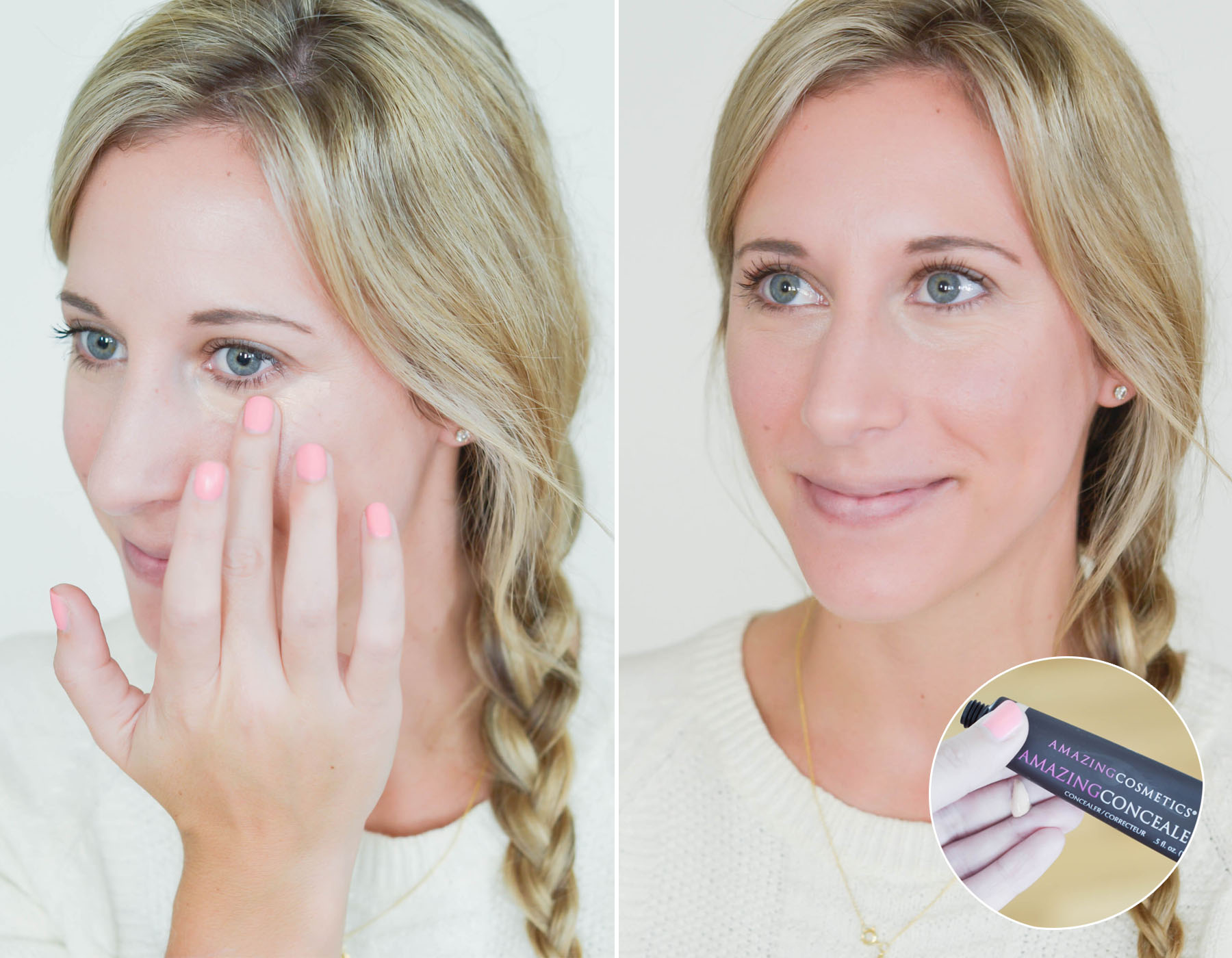 Use your fingers to apply your foundation if you want sheer coverage and a brush if you more polished, medium to full coverage.
13. Apply blush to just the apples of your cheeks.
It's an instant face brightener that sets the stage for the rest of your makeup—whether you choose to put on more or not. Use a fluffy brush to apply a pop of pink to the apples of your cheeks, and poof—you look gorgeous.
14. HOW TO COSMETICALLY CREATE EYEBROWS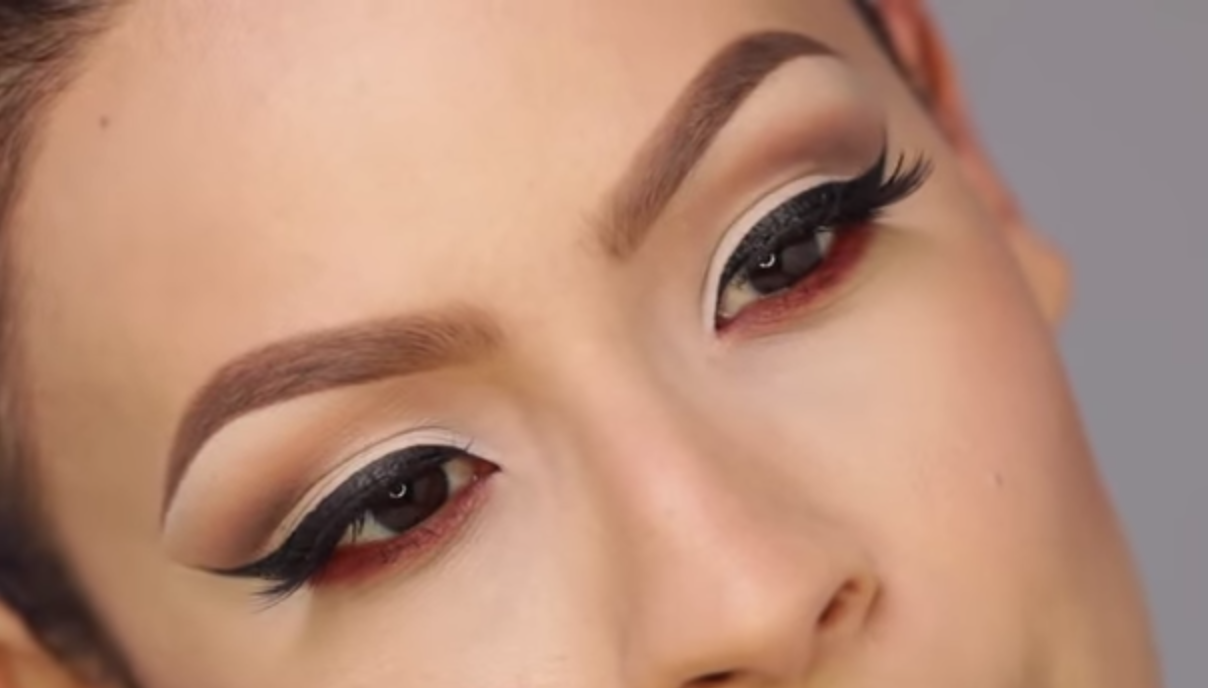 Fed up with your thin, sparse eyebrows? Watch this makeup maven—whose natural pair is virtually nonexistent—construct a gorgeous, near flawless symmetrical set armed with a few brushes, brow gel, concealer, and astounding primping prowess.
15. Scotch Tape Eye Stencil
This unconventional beauty aid will help guide you when applying eye liner and shadows, especially if you're going for a more daring look such as the "cat eye". It will also help you achieve an even and balanced look for both eyes.
16. Fix your face shape
f you have a round face and want to make it look more oval: Apply a bronzer a shade or two darker than your skin tone in a "3" shape alongside your face: on your temples, the hollow of your cheeks, and your chin.
If you have a prominent forehead: Shade around the outer edge of your forehead along your hairline to minimize the area with bronzer.
If you have a flat or wide nose: Shade alongside your bridge starting from your inner brows. Then highlight right on the center of your nose.
If gravity is taking a toll and your cheeks are sagging: Apply a highlighter just above your cheekbone all the way to your temple. Use a blush directly on the cheekbone, then use a bronzer in the hollow of the cheek, underneath your bon.
And if you really want to make your contouring stand out, use a sparkly highlighter, which will reflect the most light. Then for your bronzer, go for a matte finish, which will absorb light and create a stark contrast.
17. Dark circles can make you look tired
Dark circles can make you look tired. To get a wide-awake look, try this tip from makeup artist Bobbi Brown: "Prepare the under eye area with a hydrating, fast-absorbing eye cream, which will allow products to go on smoothly. Apply a corrector to cover the purple or green tones in the skin, then follow with a concealer that is one to two shades lighter than your foundation. Finally, set the undereye area with a pale yellow powder to help it last longer and prevent creasing."
18. Bronzer
You should put bronzer on your neck, face, and chest to even out your skin tone. Be sure to take a step back and make sure everything is the same color.
19. Look for color-coded eyeshadows.
It sounds simple, but if you wear shadows and liners in hues that enhance your eye color, your natural beauty will shine through. To bring out your baby blues, try rich brown shades. Got green eyes? Purple will help them sparkle. Brown and hazel eyes look amazing lined with gold or bronze. Worried about buying the right hue? There's a bunch of drugstore finds like CoverGirl's Exact Eyelights line that are already color-coded for you.
20. Powder
Always apply powder where you are shiniest first, which it usually your T-zone, with a very light dusting everywhere else.
Please follow and like us: